Hybrid / Full Ceramic Bearings
GRW hybrid and all ceramic bearings are ideally suited for extreme applications. Zirconium oxide (ZrO2) and silicon nitride (Si3N4) are typical materials used in all GRW hybrid and ceramic bearings, both materials provide excellent corrosion and chemical resistance as well as the ability to operate at elevated temperatures.
All GRW Hybrid (ceramic ball) and ceramic bearings resist cold micro welding and, in particular, where there is low adhesive wear, which is especially useful in the case of lube deprivation.
Full ceramic bearings will remain dimensionally stable even at high temperature fluctuations.
The non-magnetic properties of ceramic materials prevent interference with magnetic fields and furthermore act as an insulator preventing current flow.
The density of SiN4 is considerably less than steel, therefore, a bearing running at high speed with ceramic balls is not subjected to the same high centrifugal forces as an equivalent bearing with steel balls, the end result is extended bearing life.
For more information about GRW hybrid and full ceramic ball bearings please take a look at the GRW catalogue or contact us.
---
Download our enquiry form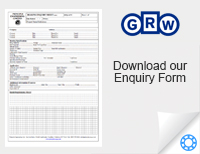 View in the GRW catalogue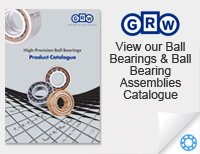 Contact us to find out more