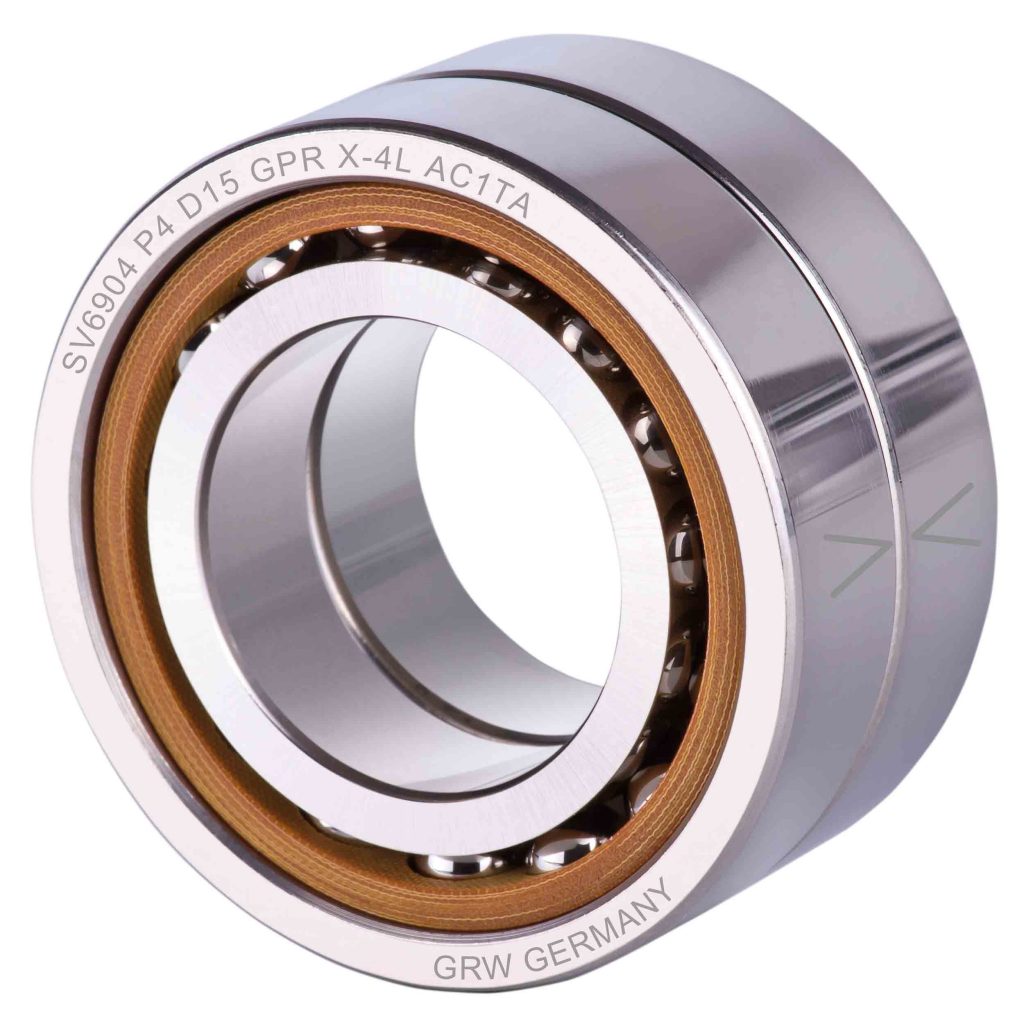 Duplex Bearings are two matched bearings that provide accurate alignment in both radial and axial directions. Vibration can be eliminated and higher load capacity achieved through the use of duplex bearings. Longer life and increased system reliability is achieved by using controlled stiffness within the duplex.
The matching of duplex bearings is achieved by loading each single bearing with the desired preload, measuring the axial off set and grinding the relevant ring face; when the bearings are assembled as a set, with the faces clamped together they create a precise sub-assembly with a known pre-load which can offer:
Increased load capacity.
A stiffer assembly
Controlled axial play or pre-load
Opimised life: lightly pre-loaded bearings help to increase bearing life as the balls run in defined tracks in a true circle.
It is very important that duplex ball bearings are mounted in accordance with the installation instructions on the packaging labels or the marks on the bearings outer ring. Matched bearings machined in this way are designed to be axially loaded to a specified pre-load; they are assembled in the following configurations:
Back-to-back (DB)-1
Face-to-face (DF)-2
Tandem (DT)-3
Universal(U)-4
The individual bearings are matched to ensure a uniform fit, the bore and outside diameter have a maximum tolerance range of either 0 to -2.5 microns or -2.5 to -0.5 microns; this results in a more balanced and accurate duplex bearing pair. To ensure the correct fits, duplex bearings should be mounted using carefully graded, selected mating parts (shafts and housings). GRW specialise in the supply of sub-assemblies that incorporate duplexed bearings, produced in their ISO standard (ISO14644-1), class 7 cleanroom.
'Face to face' and 'back to back' duplex bearings are supplied in matched pairs. Universal duplex bearings are supplied individually; these are ground in such a way that they can be mounted in any configuration.
GRW Duplex bearings are designed to provide a specified preload when the ground surfaces are accurately pressed together. The ball bearings must be mounted according to the designation on the packaging labels or "V" markings on the outer rings.
Duplex Deep groove radial bearings
For deep groove Duplex bearings the radial play is bigger than normal to facilitate the desired contact angle, rigidity and axial load capacity. Unless otherwise specified, GRW will grind duplex deep groove radial bearings to a preload of 5N and a nominal contact angle of 15 degrees. If necessary, preload and contact angles can be adjusted to a customer's unique operating requirements.
Duplex Spindle (angular contact) ball bearings
Preload and the contact angle are generally standardised for spindle (angular contact) bearings. GRW's standard contact angles are 15 degrees (C) or 25 degrees (E), preloads are specified as light (L), medium (M) or strong (S). If necessary, preloads and contact angles can be customised to each customer's individual operating requirements.

By default, GRW uses for: Deep groove radial bearings Spindle bearings Contact angle α 15 degrees (C) 15 degrees (C) or 25 degrees (E) Preload FV 5 N L, M, S.
Duplex bearing preload should be optimised to give the required stiffness but be the minimum to ensure lowest start up and running torque, resulting in good bearing life. To take full advantage of these duplexed pairs, they should also be mounted with calibrated shafts and housings (see the chapter "Grading of bore and outside diameters" in the GRW bearing and bearing assemblies catalogue). Bearing fits should be carefully selected to ensure the bearing rings are able to slide together to give the desired pre-load; an interference fit on the inner or outer ring is undesirable as it will change the preload.
Installation and configuration of duplex bearings:
Duplex bearing O (<>) arrangement: Back to back (designation –1 and DB for spindle bearings)
With this bearing configuration the inner rings are designed to be clamped together. The contact angle load path between the outer ring raceway, the ball and the inner ring curvature diverge, which results in maximum stability and stiffness against any moment loading. Radial and axial loads can be taken in both directions.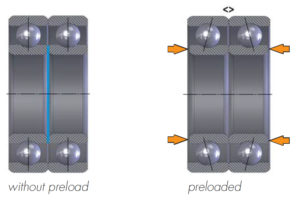 Duplex bearing X (><) arrangement: Face to face (designation –2 and DF for spindle bearings)

With this bearing configuration, the outer rings are designed to be clamped together. The load path converges resulting in less stability and a lower stiffness against moment loading. This design more easily compensates any misalignment of the assembly. Radial and axial loads can likewise be taken in both directions.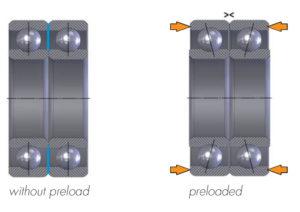 Duplex bearing Tandem (>>) or (<<) arrangement (designation –3 and DT for spindle bearings)

Duplex bearings in O- and X- configurations are designed to accommodate axial loading in both directions. The tandem-mounted bearing design is capable of taking a significantly higher axial load, but only in one direction. With this type of bearing, preloading and control of axial play can only be achieved by preloading against another bearing.

Please note that bearings of these pairing types are packed in pairs or sets and must not be mixed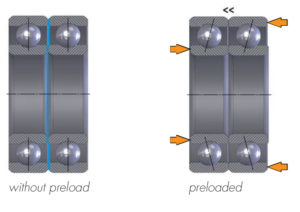 Duplex bearing Universal Tandem arrangement (designation –4 and DT for spindle bearings)

Universally matched bearing pairs have a significant advantage compared to the duplexed designs described above. They are individually ground in such a way that they can be assembled in various pairing configurations, e.g. X, O, or tandem; without any loss in performance. With the same preload, these single bearings can be interchanged without any problems.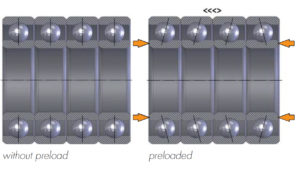 Bearing sets
Multiple duplexed bearing configurations may be used together to get the desired results. Depending on the application, these bearing sets can be made up of universally paired bearings in X, O, or tandem configurations.
The table below shows some examples of possible configurations in more detail: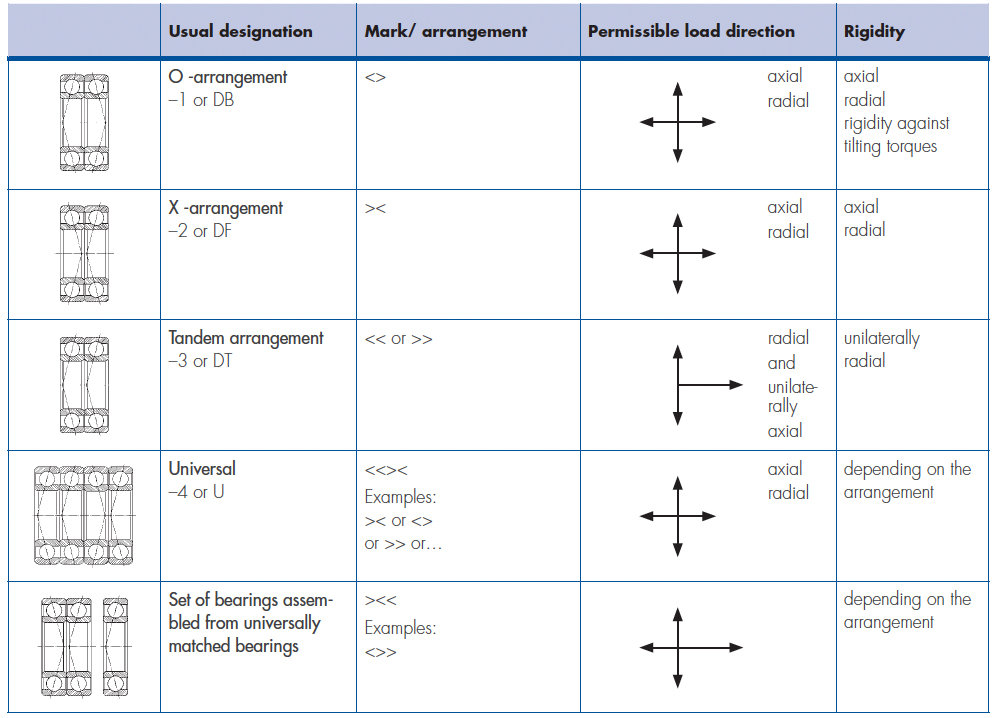 Superduplex bearings
Superduplex bearings are produced by GRW, they are double-row deep groove radial bearings or angular contact bearings where either the inner or outer rings are integral and the remaining rings are separate to allow assembly and correct preloading; the bearings are designed for specific applications; please contact us, see the special bearings page of our website, or see the Superduplex bearings and Special bearings chapters in the GRW catalogue.
For more information about GRW duplex assembly and bearing sets please take a look at our GRW Duplex Bearings product page, the GRW catalogue or contact us.
---
Download our enquiry form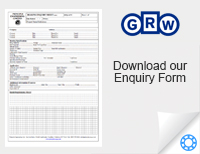 View in the GRW catalogue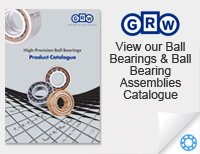 Contact us to find out more